Group Profile
Initiated by the Chinese Ministry of Education, China Hi-Tech Group Co., Ltd. (China Hi-Tech Group) was established in 1992 by a number of distinguished universities in China. In 1996, China Hi-Tech Group was listed on the Shanghai Stock Exchange under stock code 600730. Shareholders of China Hi-Tech Group are comprised of the most prestigious and selective universities in China, including Peking University, Renmin University of China, and Fudan University. It is endorsed with higher education strength and is committed to the education industry. The Chinese Ministry of Education is the controlling shareholder of China Hi-Tech Group.

The senior management team of China Hi-Tech Group is composed of prestigious experts who have proven experiences in renowned enterprises in education industry. They have executed multiple strategies that integrated global perspectives with the best local practices. By leveraging talents from famous domestic and overseas universities, the group has built a high-quality team of experienced leaders and young professionals which guarantees a strong wisdom support for the development of the group.
China Hi-Tech Group leverages superior resources of its university shareholders and conducts cross-platform collaborative endeavors to advance the transformation of universities' scientific research achievements. With its strong social credibility and its strength of integrating industries, the group undertakes the mission of "supporting national development strategy and promoting education development with the advantages as a listed company" to contribute to China's educational development.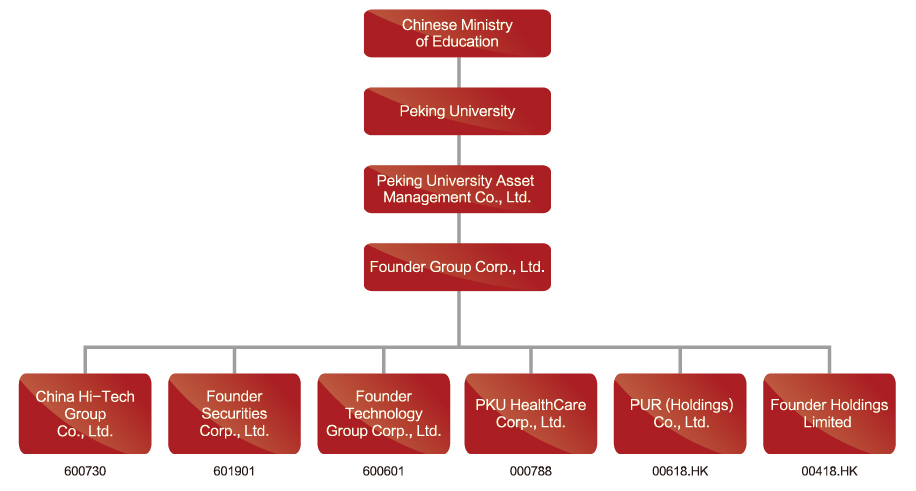 Founder Group, a large state-owned holding enterprise, was invested and established by Peking University with Peking University Asset Management Co., Ltd. as its controlling shareholder.